I made the trek to Rhinebeck this past Saturday! Being a fiber festival virgin I only had a slight idea of what to expect. It surpassed even my wildest dreams! We arrived at just before 11am on Saturday morning. My heart was aflutter as we neared the gate. What should my eyes first see but a sign saying children under $8 were free!


What a wondrous place indeed if children are given price tags!

When we entered it was a wonderland for fiberholics. Barn after barn of items to tempt even the most frugal of fiberholics. I took my time, I wandered and absorbed the atmosphere. It was wonderful. I tried to be smart. I gave myself a budget knowing that I really couldn't go crazy with my money. So I went through all the barns, all the tents, all the buildings, everything, before I decided on my purchases. As a knitter, you would think that I would have walked away from that festival with miles of yarn for projects unknown, but no, this was not the case. I did not buy an inch of yarn. Instead, I doomed myself to make purchases for another hobby! But I ask you, how can you resist when this is staring you in the face:


Roving, beautifully dyed. The promise of gorgeous yarns echo from it's fibers! The temptation became even more great when I was given a demonstration of drop spindling.


How could I resist this wonderful craft? How could I resist the idea of spinning my very own yarn? So I walked away from Rhinebeck with many bunches of dyed roving and a gorgeous drop spindle. My excitement to try spinning for the very first time was through the roof, unfortunately I had a three hour car ride between me and my first spin. Once home, I rushed through the door and immediately sat down to try it. My very first attempt was with a merino/tencel blend: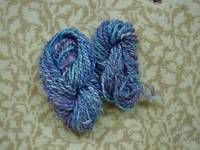 I actually don't think that it came out too badly. I'm now thinking of things I can knit with this amount! Probably a hat.
I moved on to try my hand at just merino wool in the most gorgeous green you've ever seen. (I wasn't intending to rhyme that, these things just happen)


In an attempt not to neglect my first love, I worked on the mittens and finished both of them. (After all, I had to pass the time in the car somehow and I needed to vent my excitement!) Sunday I started making the liner for the mittens out of left over gray alpaca from the apalca sweater I wore to Rhinebeck..... coincidence?


This is the work-in-progress picture but I actually finished the liner of one mitten. It only took me about an hour.... I decided to knit the liner right off of the cuff to save myself sewing it in later.

All-in-all, I had a fabulous weekend. And I must say I think my time in Rhinebeck was amazing, this rainbow we saw while leaving says it all.....