Thanksgiving is now over. Funny how quickly the holidays come and go. This Thanksgiving isn't going to go down as one of the most memorable in history, but it was wonderful all the same. The traditional fire in the fireplace was going, as was the football game on TV. We were particularly lucky this year to have snow.



As is tradition in our house, an over-abundance of food was cooked. My mom has a knack for making much more food than could possibly be eaten by seven people. I think one of the main reasons for this is the fact that she didn't want anyone going home empty handed. Indeed I think that was an impossibility due to the fact that we not only had one turkey….. we had two.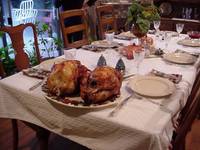 That's 26 pounds of turkey…..for seven people…..one of whom is vegetarian…..

Such are the holidays in my house. Another tradition has always been to put up the Christmas tree and decorations the day after thanksgiving.


Ah, there she is, old faithful, all tucked away. That is the 10-foot artificial tree we've had since I was ten. She has given us 13 years of service, dutifully allowing herself to be made and unmade year after year. Putting up with the cats who seem to be fascinated to no end by climbing through her branches. This year will be no different. In fact, she may see more climbing action due to the fact that there are now two new cats, still in kitten phase.

And then there are the various other Christmas decorations we've had packed away in the garage since last year…


And you thought your family had a lot of decorations. I'll be sure to post pictures once there all up to show you just how festive a house can become!

As for knitting, I finished my Debbie Bliss cashmerino, cabled sweater in time to wear on Thanksgiving day. You should have seen me sewing in ends a couple hours before we were due to eat! I can tell you if there is anything I truly dislike about knitting, it's sewing in ends. I, unlike most people I know, love to piece the sweater together. There's just some underlying satisfaction I get from seeing those seams come together so perfectly. But the ends…..those I dread. But, I sucked it up and did them anyway and I was left with a wonderfully finished sweater….



If you're wondering about the mittens….well….I frogged them. I wasn't very satisfied with the way they were turning out and there was just something about them I didn't like so….I ripped them out. It hurt, I know, but it had to be done. Today I'm going to be trying them again, in different colors and I think a different pattern. We'll see if I like those better!