So let me just tell you, I had the best weekend in the world! D and I flew down to VA Friday night and met up with two of my roommates from college. It actually was a surprise that I got to see them both because one of them lives about three hours away from the other.

Huge news, my roommate Sam is engaged! It is and isn't a shock if that makes any sense. The wedding is going to be next summer. How sweet is that?

Saturday we spent the day hanging out...


We even did a little wine touring (very minor compared to our last time wine touring... think my 21st birthday... yeah... good times). We also went to the movies and saw The Longest Yard. I almost just wrote the Longest Yarn! Looks like my fingers are used to writing yarn a lot.

Anyway, Sunday we went to Kings Dominion. Oh man it was so much fun! Here we are driving there. Of course I had to get the "on the way there" shots.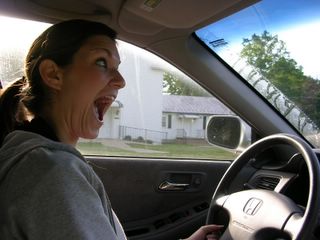 And the "in the parking lot" shot...


We had such a great time. I haven't been on a roller coaster in what seems like forever. I just don't remember them throwing you around nearly as much as they did. Of course, we went on all of the old wooden roller coasters and by the end of the day it felt like my head was going to explode! The only disappointing thing was the newest roller coaster was closed. Boooo. To be honest, I don't think we could have handled another ride!

The funniest thing that happened was the last ride we went on. It's called the Bezerker. Basically it's the boat thing that goes back and forth and eventually flips over. Well, when the ride was over and they were about to let the harnesses off, something happened with the stupid thing and we were all stuck in the ride! D was the smart one, he didn't want to go on that ride... Once they finally got maintenance out to fix it we had been sitting in there for a good ten minutes, maybe more. After they "set us free" we took it as a sign that it was time to go!

Monday was laid back and wonderfully un-busy. We went to lunch, went to another movie (Kicking and Screaming, surprisingly funny, of course, I didn't have high expectations) then D & I got back on a plane to come home.

It was a great weekend. I loved it.

This week has been so busy at work, it's not even funny. Hence the reason why I haven't blogged about the weekend until today. I did a little spinning Tuesday night. Apparently Pippin wanted to help me out.


I kept telling him no and to get out of the box, but he knew I wasn't serious. I'm telling you, when they're cute like that, I just can't resist. There's a fine line between how much I love my fiber, and how much I love my cats. Apparently the cats won this round.

This weekend my family and I are driving down to Maryland to visit my sister. I should have just taken the week off and stayed in VA because my roommate is only about an hour or two away from my sister! It's going to be a long drive there and back and only a short visit, but it has to be done. Her husband is stationed in Japan so they're all moving out there until next February! They're leaving at the end of June and this was the only weekend they could see us.

Hopefully it won't take me until next Thursday to tell you all about it!