First off… HAPPY VALENTINE'S DAY!!! Of course I realize that Valentine's Day is just an excuse to spend money and buy greeting cards and flowers. I think somewhere in there you're supposed to show the one you love that you love them (even though that's something you should do anyway all year long, but whatever…) Despite not liking the commercial part of the holiday, I'm excited to be spending it with D. (Not that we didn't just spend an entire weekend together!)

Speaking of the weekend, it was fabulous! I can't even begin to describe it to you…. Wait a minute, yes I can!

I'm skipping right to Saturday because I really don't think you'd be all that interested to hear me talk about how I slept in the car on the way down. So Saturday we left at around 10:30 or 11am to go to the SU Basketball game against Villanova that started around noon. The game was awesome! In fact, it seemed like there were more SU fans there than Villanova fans! How funny is that? So this is where D and I sat in relation to the court: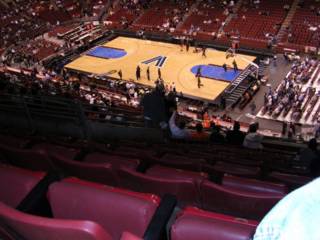 We got there early so the seats weren't full yet. And it really is as steep as it looks in the picture. If you weren't careful you'd go rolling down the bleachers. At least that's what I saw happening in my mind every time we got up! The game was really great by the way. It wasn't edge-of-your-seat exciting because SU was up by so much for the majority of the game however it was still a lot of fun to watch. Needless to say they won!

Afterwards, we went to lunch in Downtown Philly at a really cute Mexican restaurant. Delicious! (kind of wish I didn't have the pretzel and a bit of pizza at the game so I could have had more room for yummy Mexican food, oh well) So after lunch I was supposed to go to the auto show with D and his friend but guess what? D's friend brought his girlfriend along and she and I went shopping! How stereotypical is that? Leave the men to go look at cars and let the womenfolk shop.

A nap was definitely in order after a day like that! Plus, I needed my energy for a night out on the town! It was so much fun (I feel like I'm repeating myself here, but seriously, it was so much fun!) We went to this little night club just outside of Philly. Boy it has been awhile since I've gone out and had a blast!

Sunday, the incredible D took me to the "best cheese steak joint in Philly" so we could load our arteries with tons of grease! *drool* Just thinking about those cheese steaks is making me hungry!

You'll never guess what we did next…. This is all because D is so fabulous and was willing to take me there… We went to a little yarn shop in downtown Philly called Rosie's Yarn Cellar! How cute this place was! And the best part was D was genuinely interested when we got in there. No hiding in the corner for him (though that would have been more than easy to do, there were so many little nooks in this place!) They had a class going on when we got there so it was a little crowded, but still so cute! And don't get me started on the selection! So I obviously couldn't walk out of there without getting something so I reached for this:


So who wants to venture a guess as to what I'm making with it? I'll give you a hint… everyone and their sister is making or has made it in the past several months. Ok, here's another hint, it starts with "C" and ends with "lapotis" Yep, I'm joining the ever growing group of people who have made the clapotis! I seriously couldn't resist.

From there we drove home. I knit the entire way home on the sleeve of my Retro Prep… Not a very interesting progress picture so I'm just gonna say that I'm almost done with the first sleeve and will be starting the next one as soon as I finish. So I don't have a picture of the sleeve, but I do have a picture of the second mitten.


So there you have it. I haven't worked on it in awhile but I'm at the thumb, which always feels like I've hit a brick wall in terms of motivation. Does that ever happen to you? You get to a certain place in a pattern and all motivation just stops dead? Well, that's where I'm at. I haven't worked on it in about a week. As soon as I make the thumb and attach it I know it will fly by, but it's just getting over that hump!

Lastly, I have an exciting little thing to share... On our way home while I was just knitting along, D turns to me and says "I'll probably want to you teach me how to do that someday"!!!!! I tried very hard to curb my enthusiasm, but in all honesty I'm soooo excited!!!