Well dear readers, I have a very sad story to tell. It's heartbreaking actually. This is not a story for the faint of heart, I assure you. It all started yesterday when I was working on the sleeve of Retro Prep... poor, poor Retro Prep... I'm surprised at myself for not noticing this before I even started the sweater, but that, as they say, is my own fault. As you know, I've completed the body up to the underarms and I had almost finished the sleeve when I had the very bright idea to try it on.


The fit was fine, it really was turning out quite nicely, great stitch definition perfect gauge and that's when I noticed it.... I noticed that I couldn't really tell where the sleeve ended and my hand began... Could I really have made such a stupid mistake???? I've started a sweater where the color is so close to my skin tone that were I to wear it in public people would do double takes just to make sure I wasn't walking around topless! That's right! If I finish this sweater it's going to make me look naked! Damn my pastey white skin tone!!! And so it is with great sadness that I lay Retro Prep to rest...

That is, of course, until I figure out what to do with that yarn! My mom bought it for me for Christmas a couple years ago and I've been trying to figure out what to do with it. So I thought Retro Prep would be perfect... *sniffle* Anyway, I was thinking about getting a ball or two of a chocolatey brown color to stripe in it. Of course, that also means I have to take the whole thing apart, which I'm just not ready to do yet...

That's so very sad when that happens, but fortunately I had other projects to keep me busy...


Last night after I took out the needles for poor Retro, I finally got over the motivation block I've been having with the mittens. I sucked it up and made the thumb. Once you get over the thumb it's amazing how quickly the rest of the mitten goes. However, I pooped out at about 9:00pm. That's right, I was so tired I couldn't knit anymore! I was so tired I didn't go to Chorale practice last night. It looks like all of my running around has finally caught up with me.

Just a quick little side note. Monday, while I was at work, I was minding my own business at my desk when a coworker came in with a huge box that was just dropped off by FedEx....a huge box for me.... This particular box had something like ProFlowers written on the side of it!!! AHHHH!!! My face turned bright red when I realized that D sent me flowers at work on Valentine's Day! How sweet is he????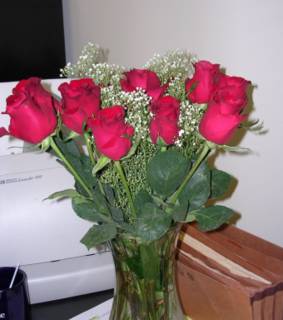 So now I have these to brighten up my week!