I promised you pictures did I not? Ok, here are a few of the things I've been working on recently. Remember way back when I went to Rhinebeck and started spinning that green roving? Well guess what? Two weekends ago I finally finished enough to ply it together. Doesn't it look great?


I know that looks like a lot, but it's actually only a very small hank. I haven't washed it yet, but as you all know I've been a tad bit busy.

I've also been working on that scarf for my coworker's sister. It's out of a mohair type yarn that I bought at A.C. Moore. I like the way it looks, sort of pepperminty.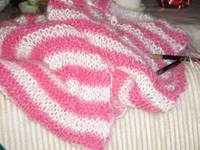 I actually finished the knitting part last night. I still have to put the fringe on but that shouldn't take me too long. I liked working with this yarn, except of course for the fact that when I was finished I'd have a lap full of mohair fibers, but we all make sacrafices for the craft right? The best was when I was working on it before one of the concerts. We had a little down time so I decided to pull it out.... big mistake. Did I mention that our concert dress was all black? So there I was going on to sing with pink and cream fuzzys all over me! Oh well, I'm sure no one noticed.

On to the spinning I've been doing, I told you about that roving that looks grey, but has all those specks of colors in it right?


Unfortunately those specks don't show up so well with my camera. You're just going to have to imagine them there!

I started a sweater for my mom last night after I finished the scarf.... who said I had to do the fringe right then? I was in a non-fringe mood last night. I don't know what made me think starting a sweater who's first instruction was cast on 288 stitches on a size 2 needle would be easier than making some fringe, but oh well. I did the long tail cast on..... three times. Finally on my third time I had pulled out enough yarn to actually finish the cast on.


This is actually the first couple rows of garter stitch. At least they made that part easy. Then it came to the cast on four extra stitches and join part. What are those four extra stitches for you ask? Oh they're only for the cutting.... (insert cartoon pop-out eyes here) CUTTING?!?!?! Oh this should be fun. Well, I'm sure it will be months before I get even close to that part seeing as how the body is worked on threes. Yeah, it takes me a good half hour to knit one round. Longer if there's a pattern. Yeah, this is a marathon pattern....

And finally, because it was cute, I give you a picture of a couple of my kitties.


The one on the left is Daisy. She's our oldest cat, I think she's 8 and then there's Pippin who's trying to suck up to her. She's not buying it, by the way, because she know the minute she turns her head to look away he's gonna be up ready to pounce on her. I just happened to catch him in a non-stalking pose. He decided to be in the I'm-so-cute-you-have-nothing-to-worry-about pose. Ha! At least Daisy knew better. Me? I was suckered into taking the picture...